When I was little boy I always had read manga and magazines every single day.
I can say that all I need to know I learned a lot including the study of birds and bees in magazines.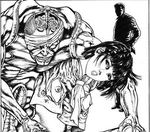 Actually I had read plenty of books from my aunt's bookshelf. (I was told, I shouldn't)There were some monthly magazines for grown-ups full of articles and agony columns. ( they were talking about sex and personal stuff about their spouse in that column )
A middle aged lady confessed she didn't know what to do with her impulse and the lust. What,,,, ? Impulse ? Lust ?
I was too young to understand it. But I got it when I reached 13 and that had been bugging me many years until 30.