After I came to Tokyo I rarely go to the ocean… when I was in Osaka I quite to the beach a lot.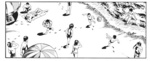 When I was working in a dirty factory in Osaka… I got a deep tan and was good at swimming and didn`t get a flu or cold because i was spending so much time in the sun.
In kanto area which contains Tokyo, we have beach… because the color of the soil in kanto was much dark and different to that of Osaka beach, when the waves came they took the soil and so in turn the water looke absolutely filthy!
Summer time reminds me of my co-worker who drowned in the sea when we went to the beach near Tokyo.
He was such a gifted assistant, with what looked like a good future ahead of him… it has been 40 years since then… I wonder if he was still alive today… what of manga artist or artist would he have materialized into? I wonder…
When summer comes I often recall this memory and quite often makes me sad.