Although I was using painting softwear windows… I thought it was such a waste not to use layers within painting software, that I eventually decided to go a weekly Photoshop class!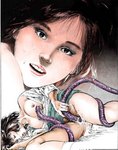 Without using layers you can paint using the software called Painter… but the Photoshop layer is very basic so you have to use layer with Photoshop.
They taught me how to use layer but I didn't understand what its all about… I don't know though if going to be handle Photoshop in the future with this lack of knowledge with this jellyhead of mine…
Maybe I'm too old to learn how to use new software and technology…I paid a deposit so I have to change my mind and get serious about it, and I need someone to refresh my mind about using new software!
I feel like I'm a geriatric at times, desperately trying to keep up with modern technology!